Like for many, since lockdown, managing our work/life balance effectively has become harder to achieve. The removal of a physical, communal office space has blurred the lines more than ever before. Add a less than ideal 'home office', small children and working spouses to this equation and you have a recipe for stress which we know lots of you are also experiencing.
Here we give our tips on what helps us through a typical lockdown working day…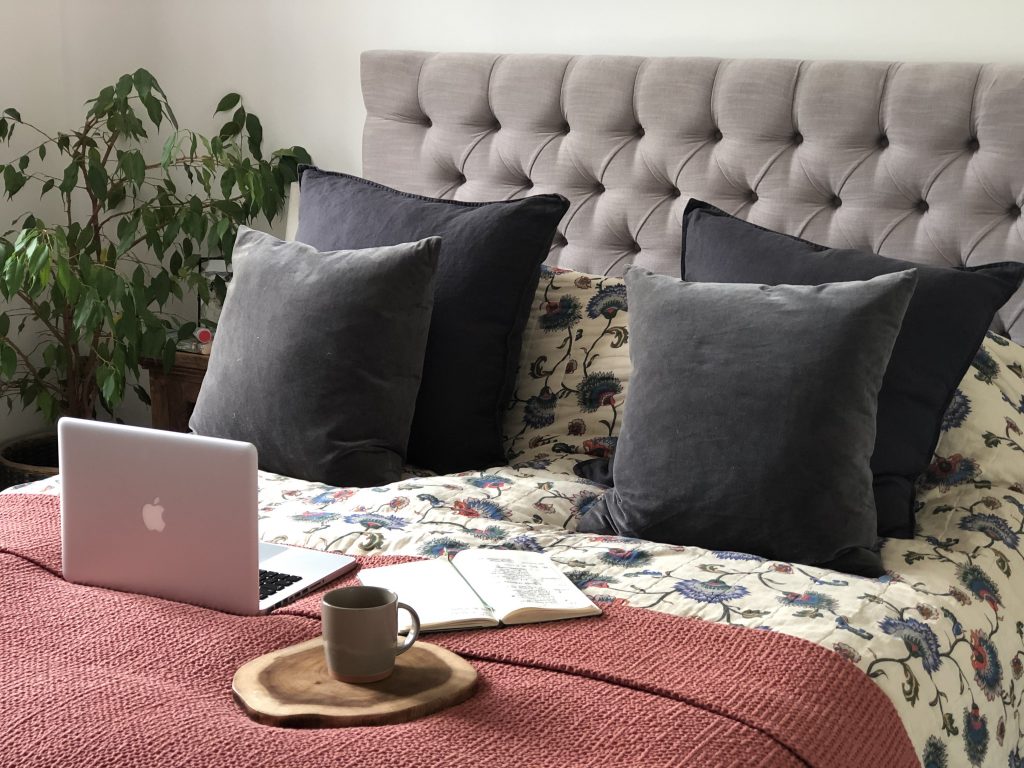 Louisa, Marketing & PR Executive 
What does your routine look like?
Since lockdown, what I have found increasingly important is getting out first thing in the morning for a run. This sets me up for the day both mentally and emotionally.
As the days start to blur into one, trying to stick to set office hours – even if they aren't on days I typically would be in the office – has become increasingly important, as has rolling with the punches and knowing that, if your toddler/newborn/ [insert relevant party here], is having a meltdown, it might be best to reshuffle your working day to accommodate. The lack of differentiation between work and home life at the moment has meant I've found it best to avoid working during the evening if possible. I have found this has improved my sleep and mental wellbeing no end and added more of a structure to my working day.
What is your home office situation?
We don't have the luxury of a home office and working from the kitchen table can prove a problem when sharing the space with a toddler. This leaves the bed – not great for the back, but at least off the beaten track!
For anyone in a similar situation, a great tip is to always swap out the bedspread from day to night to create the illusion of a different space – this has really helped me. I also ensure that I clear away any 'office' items when I am finished for the day and keep my room tidy and as pleasant a place to be as possible.
What is getting you through lockdown?
Running! That and being fortunate enough to continue to work throughout. Helping to keep our clients' businesses afloat during this time has added a much needed purpose to a frightening and uncertain time. I love what I do and feel incredibly lucky to work for a people centric company and wonderful boss. BrightWord (Rachel) always puts people first, whether that means going above and beyond to support clients or being understanding, kind and supportive of the team.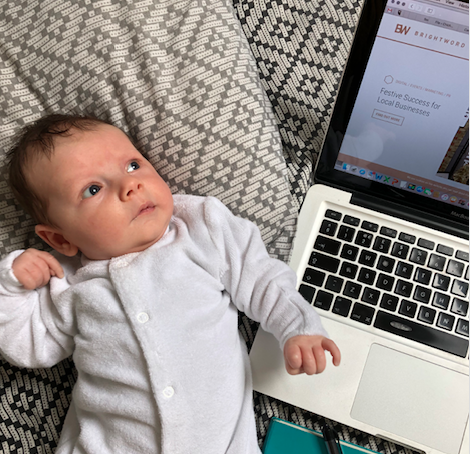 Rachel, Founder & Director 
What does your routine look like?
Whilst working in your pyjamas all day might seem tempting (and I've had a few days like this) it's not great for your state of mind. Each morning I make sure I get up, get showered and dressed and take the dog for a walk – this tiny bit of structure and fresh air makes all the difference to the day ahead. It's the little wins that count in situations like now!
With a newborn and 4 year old at home I've found it harder to stick to set hours like Louisa. Instead I'm trying to compartmentalise so when the opportunity arises to work I'll completely focus on that and when I'm needed as a mum I make sure I'm being as present as possible. It's when I try to combine the both that problems arise! It doesn't always work out this way but since making this decision I've actually found I'm being much more productive and feeling a lot less guilty.
What is your home office situation?
Like Louisa, I have no home office and I'm sharing the space with my young family so my desk could be anywhere from the kitchen table, sofa or bedroom. As a self-confessed workaholic, I have spent years working from home at all hours of the day and night so I'm quite used to finding a quiet corner somewhere with my laptop and cup of tea to plough through emails.
What is getting you through lockdown?
I'm reading some fantastic books including The Pumpkin Plan by Mike Michalowicz which is all about growing a successful business. With a bit more time on our hands than usual, I'm also enjoying focusing on BrightWord for a change and coming up with new ideas and better processes for the future. To really switch off, I've just discovered A Line of Duty on BBC iPlayer – we are hooked!
We are lucky in that all of the businesses we work with have been very understanding of the fact we are working mothers. With the echo of Finding Nemo or Batman in the background we have Zoomed, strategised and planned with our clients to ensure we are still delivering the high-level marketing and PR service that is so vitally important to their business survival at this time.
In between the challenges that working from home during lockdown poses, we have also been surprised to find some truly uplifting moments. Although we will be relieved to see the world go back to normal, being forced to take pace with the children of the house has revealed beauty in the simple things in life. From reinventing play to fill the rolling hours, to discovering a renewed sense of gratitude for the world around us and simply spending more time together as a family. There are some elements of this experience we will strive to carry forward.